After Triumph
After Triumph is a walk across an uncanny landscape. A text-based tarot-reading walking simulator. The walk is long, but the game is short. (approximately five minutes to get through to an ending.)
The game plays as a journey and also a reading of the major arcana. Each half sort of divines the other. Warning: While there isn't any overt adult content in the story, it's pretty bleak throughout.
After Triumph works on computer and mobile!
Notes:
Chrome overrides some of my CSS - links that have been visited (if you immediately play through the game a second time) have a different hover colour. Why is this? I do not know. If anyone has an idea, please tell me!
I made the images using the amazing Strike tool by Amorphous.
The CSS was done using Daniel Talsky's CSS Template, which is an essential resource if you're using Twine and struggle with CSS formatting as I do.
The soundtrack is by me and more of my musical stuff can be found here.
This game was an attempt to just finish something during this weird traumatic time. (If you're reading from the future, we had a global pandemic through 2020-21 which messed a lot of us up for a while, but we're getting better now. Do you have flying cars yet? Have any billionaires been lost to the vacuum of space?) After Triumph is a small thing, like most of my games, and so will probably always be free to play. If you enjoyed it, please consider supporting my work with the button above.
----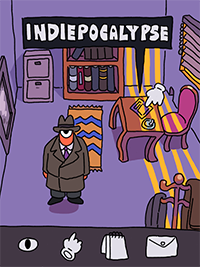 After Triumph is featured in Indiepocalypse #22